Detta inlägg skrivs på resande fot. Dr Phillips, som var vår huvudtalare på "mini-ILADS" i mitten på juni – skickade detta klipp till mig och berättade att ett nyinspelat specialprogram om Lyme disease/borrelia ska visas på Fox News torsdag kväll new york time ca kl 23 (ca kl 0500 svensk tid) och detta är den fulla oredigerade intervjun;
(Kommer redigeras när jag kommer hem)

FOX5 NY to air Lyme disease Special Thursday June 30th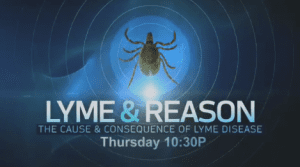 On Thursday, FOX 5 NY is airing a special on Lyme disease which will feature interviews with Ally Hilfiger, Marla Maples, Neil Spector MD, and Brian Fallon, MD and others listed below.
"LYME AND REASON: THE CAUSE AND CONSEQUENCE OF LYME DISEASE" AIRS THURSDAY, JUNE 30TH AT 10:30 P.M. EST.
FOX 5 presents an in-depth look at the cause and effect of Lyme disease, including the controversy over testing, the issues of misdiagnosis, and the personal struggles of medical professionals and patients contending with this life-changing illness.
Renowned Oncologist Neil Spector, MD shares his personal story of how Lyme disease robbed him of his own heart
Singer and songwriter Dana Parishdescribes how Lyme disease derailed her in the prime of her career and her life
The touching story of 12 year old Julia Bruzzese, how Lyme disease stole her ability to walk, and how a blessing by Pope Francis during his visit to NYC has provided hope for her and her family
Brian A. Fallon, MD, MPH – Director of the Center for Neuroinflammatory of the Lyme and Tick-Borne Diseases Research Center at Columbia University talks about the cause of Lyme disease and what you should do if you're bitten by a tick
Yale-Trained Lyme Disease Expert Steven Phillips, MD addresses the controversy surrounding Lyme disease, while Paul Mead, MD – Chief of Epidemiology and Surveillance Activity of The Bacterial Diseases Branch of the Centers for Disease Control and Prevention offers the perspective from the country's lead public health agency.
Patricia De La Mora, Associate Professor of Clinical Pediatrics, Weill Cornell Medical College talks about prevention and how to keep your children safe, while Lawrence Putter, MD – Medical Director Lenox Hill Veterinarians discuss pet safety when it comes to ticks
We also cover the controversies of Lyme in terms of testing, treatment, and coverage by insurance companies
Encore presentations of the special will air on the following days:
Saturday, July 2nd

 @ 

6:30pm

Monday, July 4th

 @ 

10:30pm

Sunday, July 17th

 @ 

5:30pm
Enklaste sättet att bli medlem är att sätta in medlemsavgiften på föreningens
Plusgirokonto 165 18 27-6 eller Bankgiro 5921-6770.
Årsavgiften för medlemskap är 300:- för fullt betalande medlem.
200:- för pensionärer, familjemedlem, stödmedlem och studerande.
Glöm ej att skriva namn, adress, telefonummer och eventuellt mailadress.
Om du har några frågor ang. medlemskap ring eller skicka ett mail.
Kontaktuppgifter finns under Kontakta Oss.
I övrigt så fortsätter kampen som förut.
Stå på er innan läkarna står på er!!
(klicka på bilden)
Jag vill också påminna om petitionen för DR X;
http://www.skrivunder.com/radda_dr_kenneth_sandstrom_-_aka_dr_x
Angelica Johansson, administratör för den obundna, och från föreningen fristående, Bota borrelia-bloggen, huvudadministratör för den fristående BOTA BORRELIA NU-gruppen på Facebook, Ordförande för Borrelia & TBE föreningen Sverige och administratör för Föreningens Facebookgrupp.
(Denna blogg skriver jag som privatperson och INTE i min kapacitet som Ordförande, och de åsikter som redovisas är mina egna och representerar inte Föreningens hållning och i händelse av kritik, bör den åläggas undertecknad.)